Material: Mother of Pearl
Colour: the ring is reversible. One side is dark grey/charcoal iridescent and the other shimmers from white to greyish silver, sometimes with a touch of iridiscent green or brown.
Important - please read:
Like all scarf rings in my collection, the Mother of Pearl rings are carefully handcrafted, and have completely smooth and round edges, making it safe to slide your scarves through. However,
due to the hard to manipulate nature of MoP,
the shape
of these rings can show various degrees of irregularity and might even be slightly bent or warped. While the surface of the lighter side is often textured/uneven (see photo examples further below)
As soon as a scarf is pulled through, these rings are sheer magic though, which is why I am keeping them in the collection. I understand that not
everyone might appreciate the surprises the Mother of Pearl rings come with. I
f you are looking for a more uniform outcome, the horn, bone or wood rings would be a better option.
Please note also that MoP is a fragile material. If dropped from a height onto a hard surface, the impact might cause it to chip or break.




COLOR


The beauty of the dark MoP rings is almost impossible to capture in a still-life. Here is a dark/grey charcoal iridescent side,


and below are examples of how it is brought to life by the scarves it holds and the light it reflects. The changing facettes and colors of the MoP's shimmering surface bring an amazing versatility to this ring, allowing it to adapt with ease to different scarf designs and colorways.
all pics show the same side (dark) of this reversible ring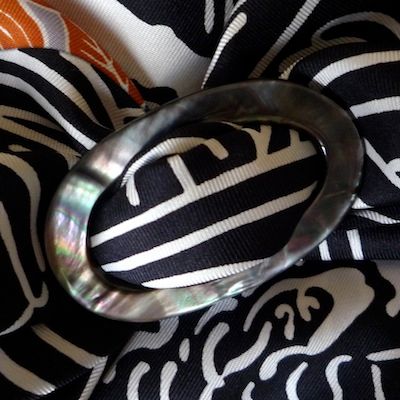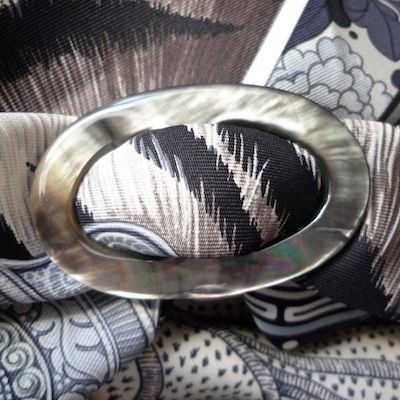 Below some further possible color variations of the dark (charcoal) side


please click image to enlarge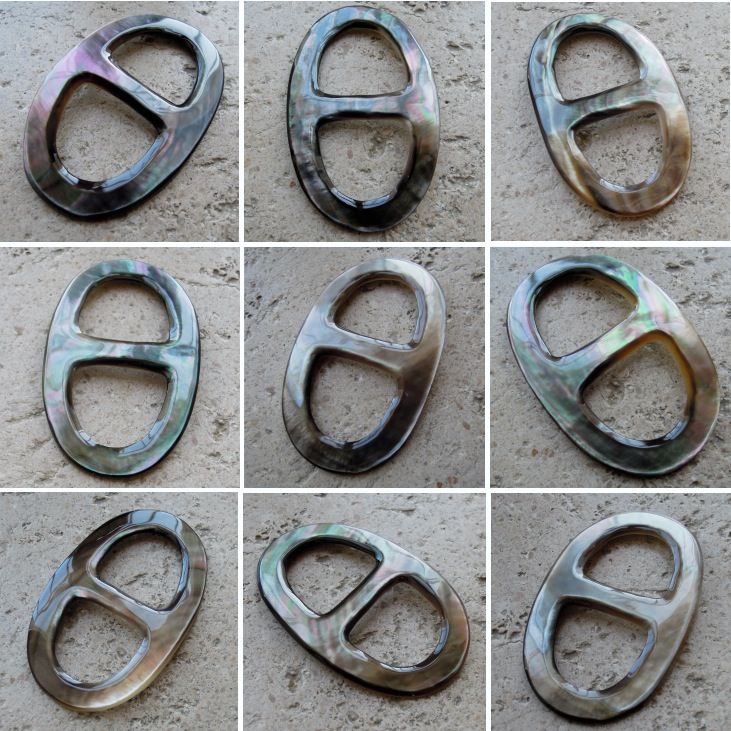 TEXTURE
The dark/grey charcoal side (shown below) always has a complety flat and smooth surface,


whereas the surface of the light side
(shown below)
varies from textured to flat, with a color range from light to dark silver, sometimes shimmering in iridescent colours from grey to green.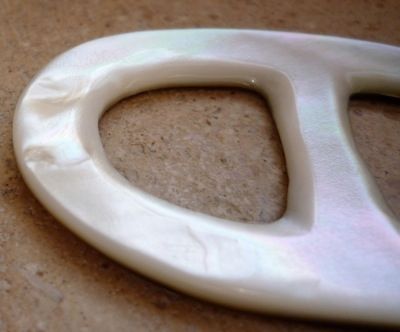 SHAPE


From a side view, the shapes can be unruly. T
hey might be slightly warped,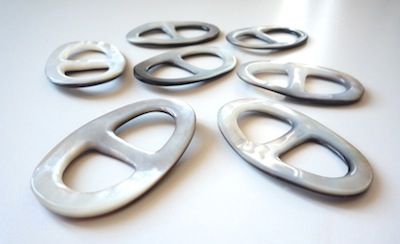 or have one side which is thicker than the other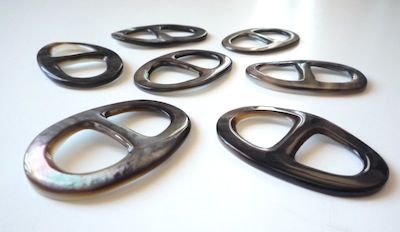 When looked at from above, they seem almost well behaved..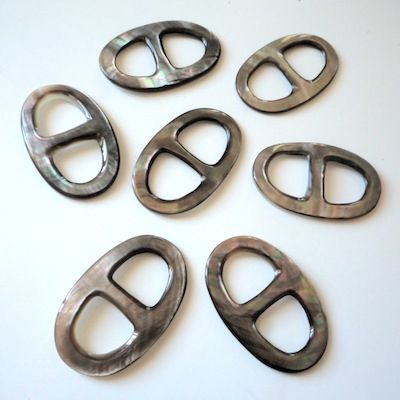 Once a scarf is pulled through, the irregularities disappear, letting the Mother of Pearl reveal it's unique and special beauty and magic.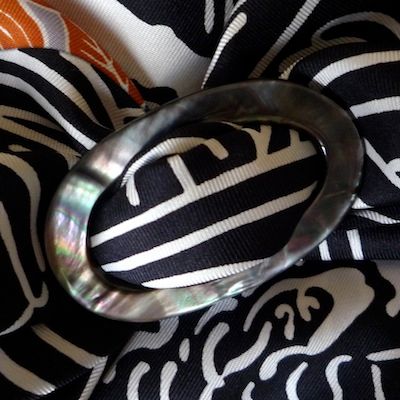 The color families identify the colors as accurately as possible. The differences between some color families are just nuances, allowing you to choose between a darker or a lighter shade of a particular color. The families overlap, for instance the darkest light honey can be very similar to the lightest regular honey and so on.